SONOS RECLINANT
Sonos Reclinant takes you away from daily routine, frees the mind streams of thoughts to enter the brains dark and unknown places.
Release date:
November 12 2022
Artist:
SONICrider
EP:
SONOS RECLINANT
Play-time:
44:54 (3 tracks)
Recording:
SONICriderSTUDIO
Mastering:
SONICrider
Genre:
Modular
Label:
The Church of Noisy Goat

Listen today on @noisygoatchurch to the highly anticipated debut of the powerful and renowned artist on the industrial music scene, SONICrider aka Jurgen Winkel. On the album "SONOS RECLINANT", he presents three killer tracks of instant composition that he performed only with synthesizer and sampler in rack modules. About five minutes filled with synthetic orchestral string sounds and some comforting reverb opens the album on the cerebrally immersive and relaxing track "Satus". Then we hear "Sonos Reclinant", which gives its name to this masterpiece of avant-garde electronic music and for twenty-eight minutes it sounds like a gentle stream of possible and imaginable sounds, ranging from field recordings of voices to noisy drones, such as a rubbed metal surface. Closing with "Complevit" that in eleven minutes spreads a drone through the listener's mind that takes him to the darkest confines of it. Many thanks to Jurgen Winkel for this collector's item.

Enjoy, The Church of Noisy Goat
Cover-art EP:
SONICrider
Cover photo EP:
SONICrider
---
About SONOS RECLINANT
Recorded November 2022, Valkenswaard, The Netherlands.
A collection of sound played live (during a studio session) imagine the sounds illustrate thoughts that enter the brain in snippets hard the figure out what the direction is. While time passes by thoughts are gone and maybe never will be back or in another combination.
Recorded in stereo and slightly mastered to obtain the right loudness.
Tracks / playtime / short description
Satus / 5:17 / an ambient track clearing the mind from daily routine opening the brain for new streams.
Sonos Reclinant / 28:26 / a layered track combining several sounds and rhythms as a stream of thoughts.
Complevit / 11:11 / a drone that ends into the dark and unknown places of the mind.
All tracks are played live, recorded in stereo and mastered by Jurgen Winkel

✌️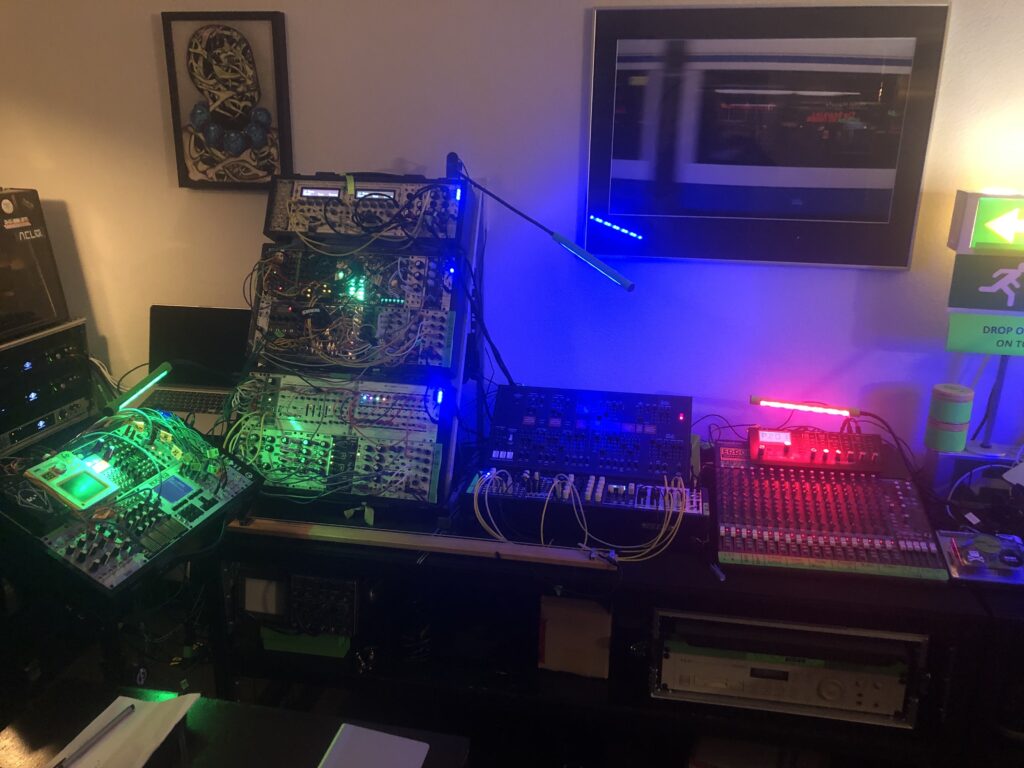 After an in depth listeners review by Chris Phinney I added the above picture to this post as a visual add to the reply I gave (sorry the photo isn't that good)…..

From left to right:
– Case on a separate stand: controlling and sequencing the modular set up with the XOR Electronic Nerdseq as center piece (other modules, cv to midi converter playing the Waldorf Pulse 2), Korg chaos pad, Droid, several multiples for distributing cv.
– 3 cases on one stand – the one on top 2 ZDPS (TipTop Audio) as overall FX units send en return via the Mackie – the middel one is an Error case (Error Instruments is a Dutch module maker with specific "FM-like" modules + the Rample – the case below is the KOMA case with both Fieldkits, in fact 2 cv and audio minglers + Rebach modules + some utilities
– In front of the big stand a DIY "string", a bass string played with all kind of iron objects, the string sound goed via the Koma field kit and a filter (manually) controlled by a LFO.
– Nest to the big stand the Korg Arp and in front the ADDAC 112 + ADDAC 506 + Koma Poltergeist (a cv controlled 4 channel mixer, panning is modulated).
– Mackie mixing console with on top the Waldorf Pulse 2 (the Pulse filter is modulated manually).
– Not on this picture (played from the "hot spot" the Lyra 8.
– Samples used in the ADDAC 112 are layered recording made during field recordings, sound of modules and sounddesign in Ableton.
– SONOS RECLINANT tracks are recorded in stereo (via UAD Apollo into Ableton) and slightly mastered afterwords.
– Mastering is done using the Softube Console (Weiss emulation).