For Peace. Against War. Who Is Not? A Compilation For The People Of Ukraine
On February 24th 2022 Putin invaded Ukraine. Online we chatted about this and our situation as artists, feeling powerless in the face of this war. The only thing that came to mind was to use what we can do best for some greater good. Use music to raise money and support the people of Ukraine.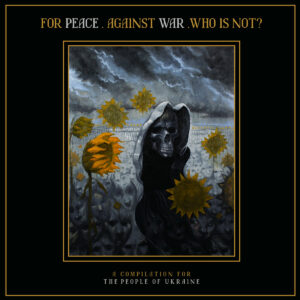 Release date:
March 15 2022
"For Peace. Against War. Who is not?" is a quote by Susan Sontag, an American writer, filmmaker, philosopher, teacher, and political activist
The compilation was initiated and produced by Snowbeasts (Elizabeth Virosa & Robert Galbraith) and Kai Niggemann. 
Mastered by Robert Galbraith except where noted.
All proceeds from the sale of this compilation will be split evenly between the charities Vostok SOS and the Ukrainian Red Cross.
Artist:
SONICrider
Beside SONICrider artist contributions from more than 27 countries: Brazil, Bulgaria, Canada, China, Finland, France, Germany, Hungary, Italy, Japan, Latvia, Netherlands, Portugal, Russia, Spain, Slovakia, Sweden, Turkey, UK, Ukraine, USA and others.

198 tracks covering electronic music in the widest way possible.
Single:
Interwoven Contractions
Play-time:
9:29
Recording:
SONICriderSTUDIO
Pre-mastering:
SONICrider
Genre:
Modular/experimetal
Label:
Component Recordings
Cover-art:
Cover art by Noah G. Hirka
Cover photo:
Noah G. Hirka
Listen- support – share this compilation and spread the peace vibe ✌️.