FUTURE UNKNOWN
A live studio session for a podcast by Klankargitektuur…….

….this post is about the inspiration and gear used recording FUTURE UNKNOWN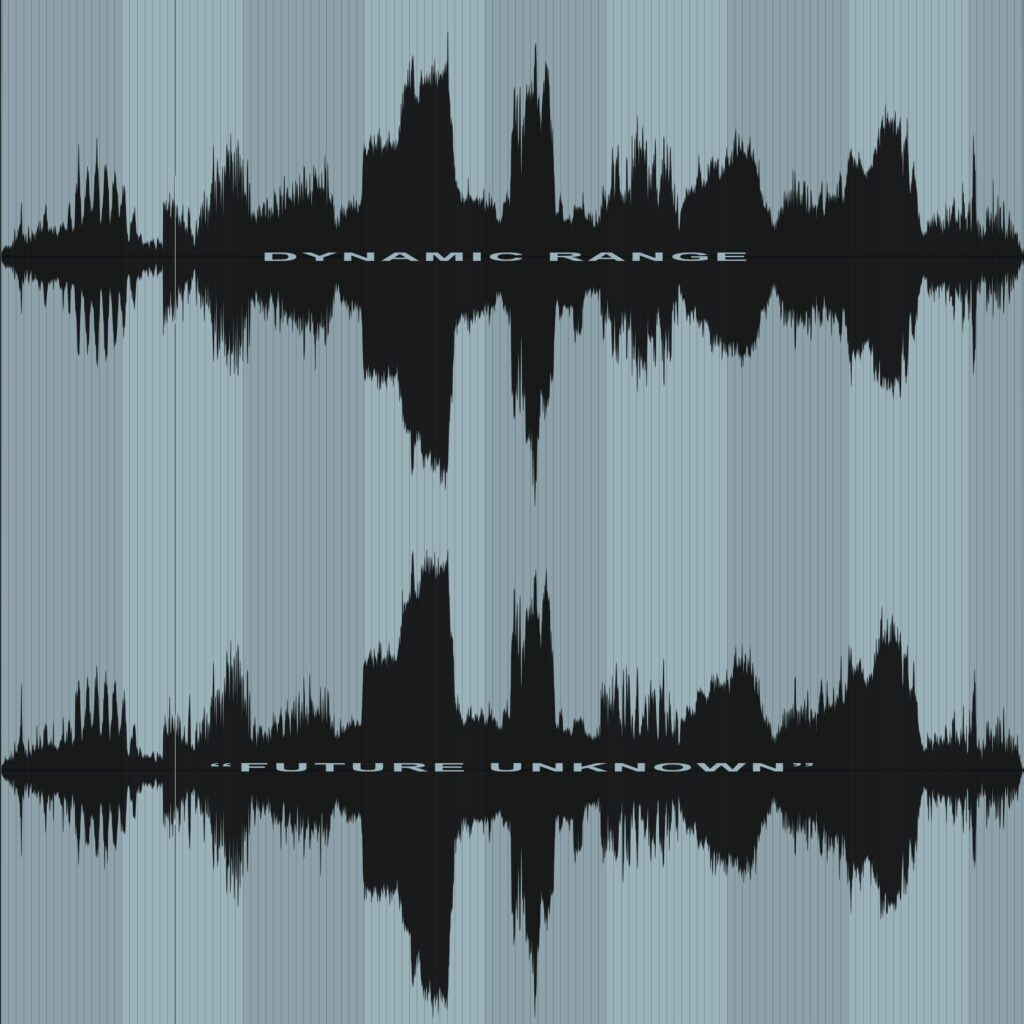 SONICrider thanks Alex (LXBeat) sending Future Unknown (soon) into the galaxy via Klankargitektuur,

Release date:
TBD (december 2022)
Artist:
SONICrider
Single:
FUTURE UNKNOWN
Play-time:
1:12:12
Recording:
SONICriderSTUDIO
Mastering:
SONICrider
Genre:
Modular live session "a mix of ambient, drone, techno, electro, industrial, soundscape & natural sounds".
Released by:
Klankargitektuur (Germany)
"Hi, I am LXbeat and I present my project Klankargitektuur. It is the architecture of sounds and tracks, which helps me to create different feelings.."
Cover-art:
Klankargitektuur
Cover photo:
Klankargitektuur
Klankargitektuur Podcast 29: LXbeat & guest: SONICrider
---
About FUTURE UNKNOWN
Inspiration
Alan Watts quote "the future doesn't exist' is one of Alan's views on the world; this quote got into my head. We as humans try to control the future but forget the now – we have to act now to solve future problems. How the future looks like we cannot determine.
"Future Unknown" is the musical translation of "the future doesn't exist"; started up the gear, patched some sounds (also patched during playing), give it a thought how to start with an open mind what is next (to do). As in real life a communication and reaction on what happens.
Pushed the record button in Ableton and played in one go combining, mixing, modulating the sound sources telling the "Future Unknown" story. I hope the listener can feel the live vibe, it was fun playing/recording.
Listeners waring: "Future unknown" has a wide dynamic range and start quit. Headphones on, light out and feel the future now.
Recording
Done in Ableton as stereo, December 11 2022, SONICriderSTUDIO, The Netherlands
Audio path
At the end of each sound source there is a volume control to mix levels on the fly, the output goes into an UAD Apollo. Total 24 in.
On each input an UAD API Vision Channel strip drawing the sounds EQ so they all have their own/right place in the audio spectrum.
Each channel uses a sent setting "hitting" the Lexicon 224 emulation (by UAD).
Channel 23/24 used by the main output of a Mackie 1604 VLZ – FX chain 2 x TipTop Audio Z-DSP (via the Mackie some of the cases/hardware mentioned further down.
Main out into Ableton.
Mastering
Softube Console "Weiss Gambit".
Weiss compressor/limiter.
Weiss MM-1 Mastering Maximiser.
Used gear playing "Future Unknown"
All sound sources modular, hardware and DIY. The studio set up is based on cases which all have a certain task. When playing live the type of performance determines which case will be used. Below the description/name of each case and the most important instruments/modules.
All cases have utilities like clock dividers/multipliers, multi, UTP connectors (chain cases, distribute cv, triggers, clock).
Foley case (DIY)
Various iron objects
Magnets
Analog clock/alarm
Played with brushes/fingers/chain/,,,,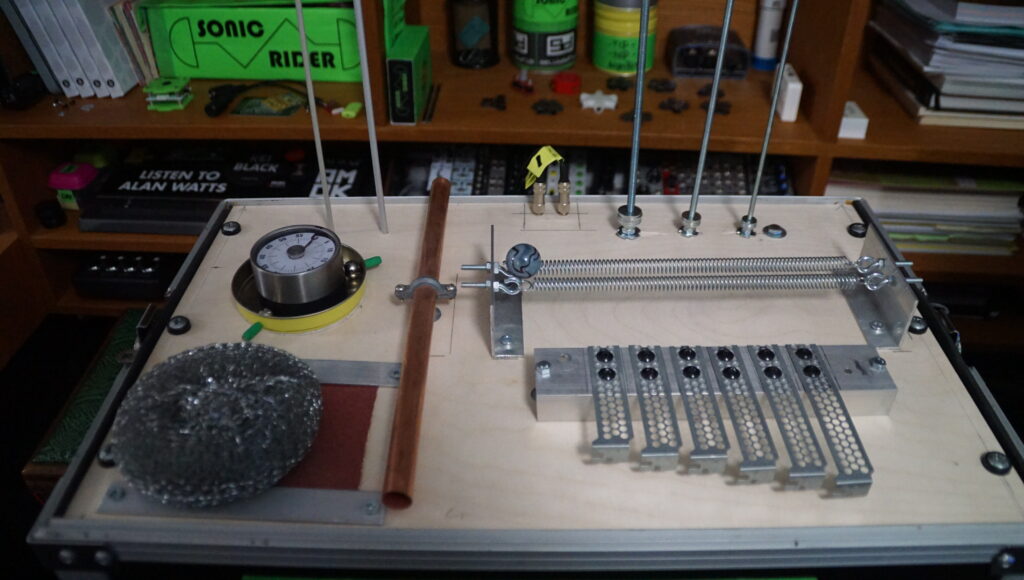 Voices case
Koma Komplex sequences
Several oscillators, filters (Moog mavis, Instruo, Pittsburgh Modular, Erica Synts)
Benjolin by Rob Hordijk (a Dutch modular designer who sadly passed away this year)
Sinfonion
Rhythm case
Several TipTop audio drum modules.
Tiptop Circadian Rhythm, Trigger Riot.
TipTop Audio One's, 4MS STS
Maths
Elektron Machinedrum via input module as sound source.
Granular case
ADDAC 112 and 506
Koma Poltergeist
Pittsburgh Modular filter
Dark case
AJH Synth chain
Mugo g0
BIA
Reverselandfill Monotropa
Pittsburgh Modular Synthesizer box
Buchla case
TipTop Audio Buchla modules
TipTop Audio Z6000
SOMA Delay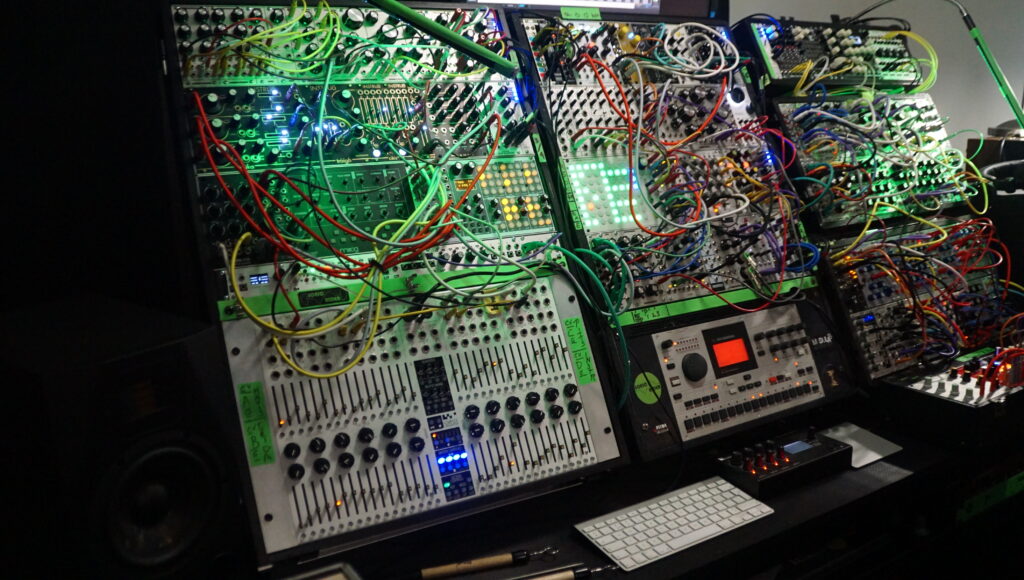 Droid/drone case
Set of Droid modules (CV programmable units)
ADDAC601
Reverslandfill Noise and Creepcluster
L-1 via/mixer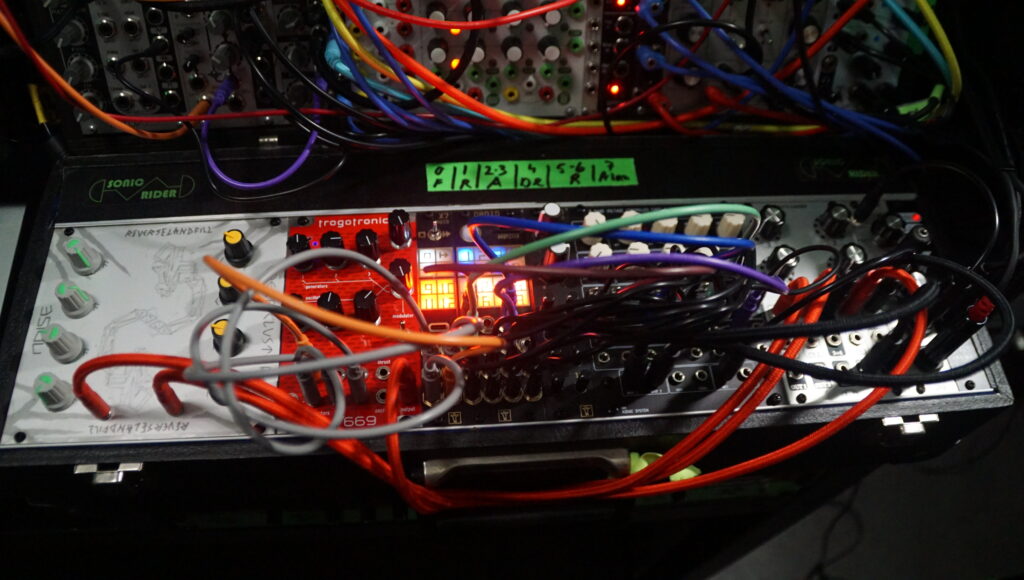 FX-case
2 x TipTop Z-DSP (part of Mackie set up)
In/out modules
Error Case
Collection of Error Instruments modules
Rebach filter/ADSR
Rample
KOMA case
KOMA Fieldkits
Rebach chainThreetom Modular MS-22
XOR case
Nerdseq seqeuncer
Several utilities modulating/distributing Nerdseq's outputs
Korg Kaossilator
Hardware
Korg Arp Odyssey
Waldorf Pulse 2
DIY (connected with the Koma Fieldkit)
String
Can