In a darkened room, a succession of droplets falls from an array of nozzles six meters above. Spattering noises accompany the first flashes of light in mid-air as UV lasers hit the streams of liquid. A soundscape swells…..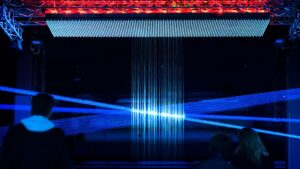 …sometimes ominous at other times cheerful, as intangible light transforms into illusory orchestrations of three-dimensional shapes that gradually expand, contract or sweep through the dark space.
SONICrider did 8 x 4,5 live performance using modulars, hardware and DIY instrument supporting this unique "Drop Of Light" project by Gijs van Bon & ASML.
While preparing the soundscape it was obvious that playing live would give the best connection between the drop(s) and sound.
Links/info:
Drop Of Light
Gijs Van Bon