Light and sound are communicated using modern technology, from one beacon to the next, until the message has reached the end of the line. Slow sounds…..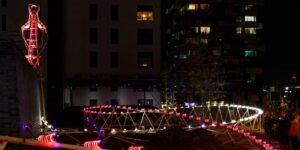 …the sound of drums getting louder or the tinkle of a little bell travel down the 200 beacons. A chain reaction of whishes embraces the GLOW visitor with atmosphere and dynamic light and sound. Sometimes fast and hard, sometimes poetic and hushed.
During the Glow 2021 festival in Eindhoven the Nanjing Pavilion will be opened: the Ping installation by Gijs Van Bon will embrace the pavilion as a dragon spreading light and sound.
SONICrider designed the sounds inspired on original Chinese instruments like Guzheng, Pipa, Erhu, Guqin, Dize, Hulusi and more. Each beacon of Ping holds and SD able to play the sound triggers by wireless network.
Links/info:
PING
Gijs van Bon