Designing a new website sounds a bit old fashion; due to the way social media platforms acts in showing and sharing information a website becomes important again. As an artist having control over what, when & whom get informed about new releases, events and other news is important.
SONICrider will keep using social media and you can visit the various platforms using the social links on each page. Wonna miss noting? Use the SUNSCRIBE TO NEWSLETTER option at the bottom of each page; SONICrider will sent newsletter when there is some real news for you as a SONICrider friend.
Designing the home page was choosing an image that reflects where SONICrider stand for when playing live, even in the studio playing new tracks as if it is a live performance makes recordings a unique moment in time.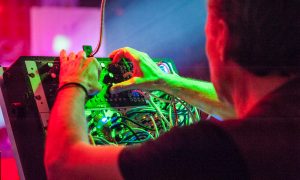 Photographer Rob de Kruif, who photographed several SONICrider gigs created a source of fine pictures to choose from. Picking one wasn't easy, at the moment this is my favourite (playing the Moog Mother 32) during a gig at the  "Stroomhuis" Eindhoven – The Netherlands during a Modulab Eindhoven event "Liberating Electronic Music".