SINKED (Live)
SINKED – live at GLOW Eindhoven 2K19….
….. recorded the last hour and 37 minutes of a 4,5 hour performance during the GLOW 2019 festival in Eindhoven, where sound & light where SINKED in a unique way.

Invited by Albert van Abbe, thanks!! Lights by LUMUS Instruments.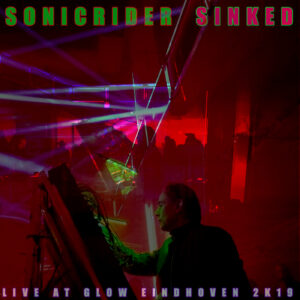 Release date:
November 14 2019
Artist:
SONICrider
Single:
SINKED (live)
Play-time:
1:35:59
Recording:
Live at abandoned supermarket in the center of Eindhoven.
Mastering:
SONICrider
Genre:
Modular/experimetal
Label:
Independent (by SONICrider)
Cover-art:
SONICrider (Jurgen Winkel)
Cover photo:
SONICrider Dianne & Paul