The ADAM Audio STUDIO PRO SP-5 headphones
A personal review with no strings attached from ADAM Audio (specs and links at the end).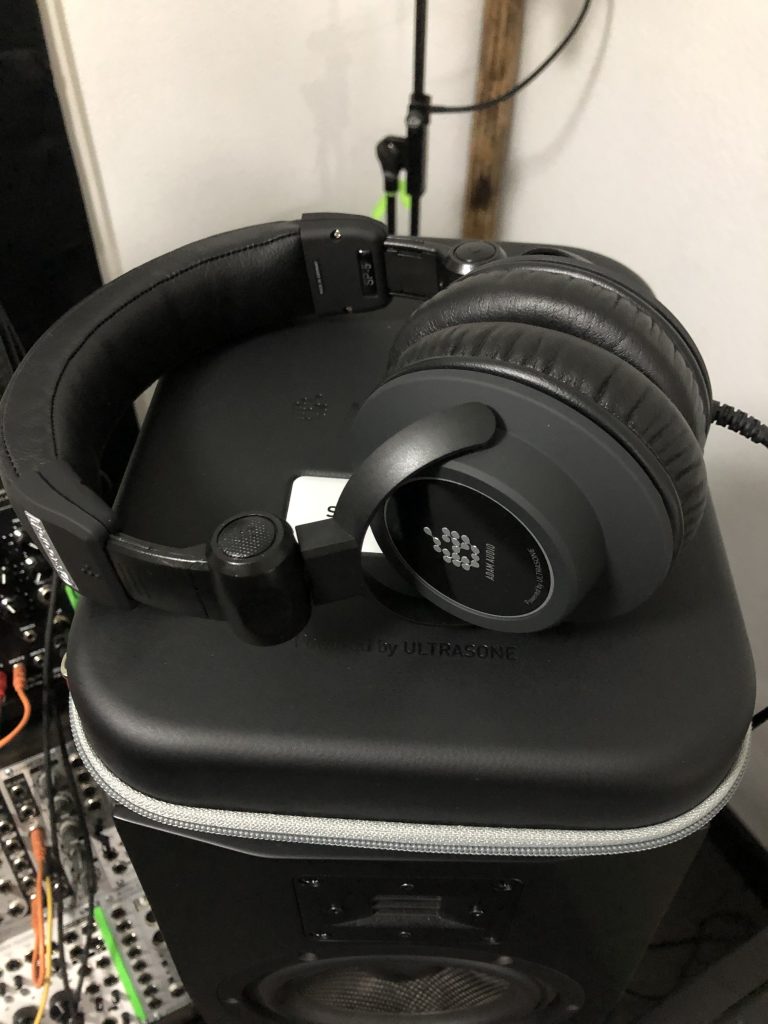 First moments
Unpacking is normally not a thing that excites me, but for everything there is a first time "the headphone comes in a hard case that will protect the SP-5 when on the road".
Next I listened a track which I mastered on my ADAM AX7 "the track starts with a VCO at low pitch fading in over almost a minute", with the SP-5 I heard this fade more intense as on other headphone.
The sound of the SP-5 gives me the same vibe as working with the AX7's "pointing at the honest way of reproducing the recording without any coloring at hand".
After 3 minutes or so I lowered the volume a bit – the sound was loud enough to feel the energy; this means that using the SP-5 fatigue my ears less as the headphones I use now.
I can hear more side effect I put into the track so using the SP-5 when recording and mixing makes the pre-msster better as before.
The SP-5 feels comfortable and keeps the outside world on distance.
After the first test I'm sure the SP-5 will do a good job on the road doing some sound engineer like tasks.
Second moment (listening recordings and albums I know really well)
Hear details never heard before.
No push at the low – mid or high range.
Mid high sounds natural.
A nice rediscovery of music I listen a lot when designing covers or creating visuals using headphones.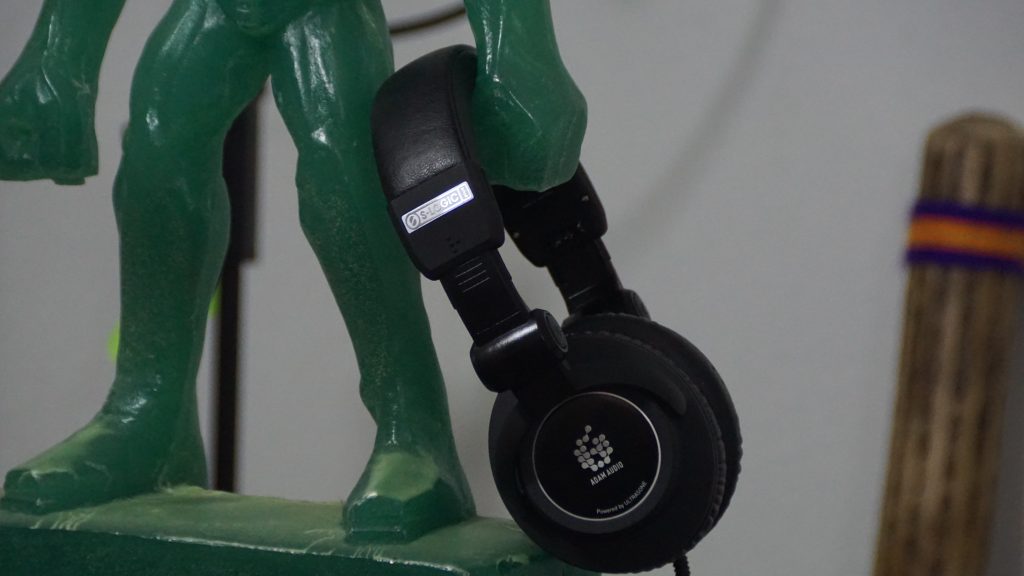 Sounddesign and recording
Starting a new project as SONICrider means creating sounds as the ingredient for the composition. At daytime I use the AX7 and at nighttime a headphone: when listening a nighttime session the next day I mostly had to redesign some sounds since they where "fighting" with each other EQ-wise (most low frequencies).
Started a new project (at nighttime) for a streaming performance in India May 2020 (organized by "ManvsMaschine") with the SP-5 and yes, I was happy with how this sounds on the AX-7. The sounds had the same interaction as I designed with the SP-5.
I'm sure that the next stages (mixing/mastering) have huge benefits from the fact that soundwise the composition is more in balance from the start.
Mixing
Good to mention that – while I did the recordings – I forgot I had the SP-5 "on" – I was into the music and the SP-5 fits good + keeps the outside world outside.
So the day after. My normal habit when listening recordings I finished, is drinking the first coffee and listen on the AX7 and my Mission HiFi speakers, grab a pen and write down things I have to "look" at. For the first time I forgot the pen – the recordings are pretty much as if I already mixed the track.
So when I started mixing (with a second cup of coffee) there wasn't much to do. Using Softube Console 1 (with the SSL 9000 emulation) added some drive – took down (with a narrow band) 2,4 K a bit and added some Lexicon 224 reverb with a long tail.
As I thought while recording and listening the recordings the day after – mixing is almost done during recording.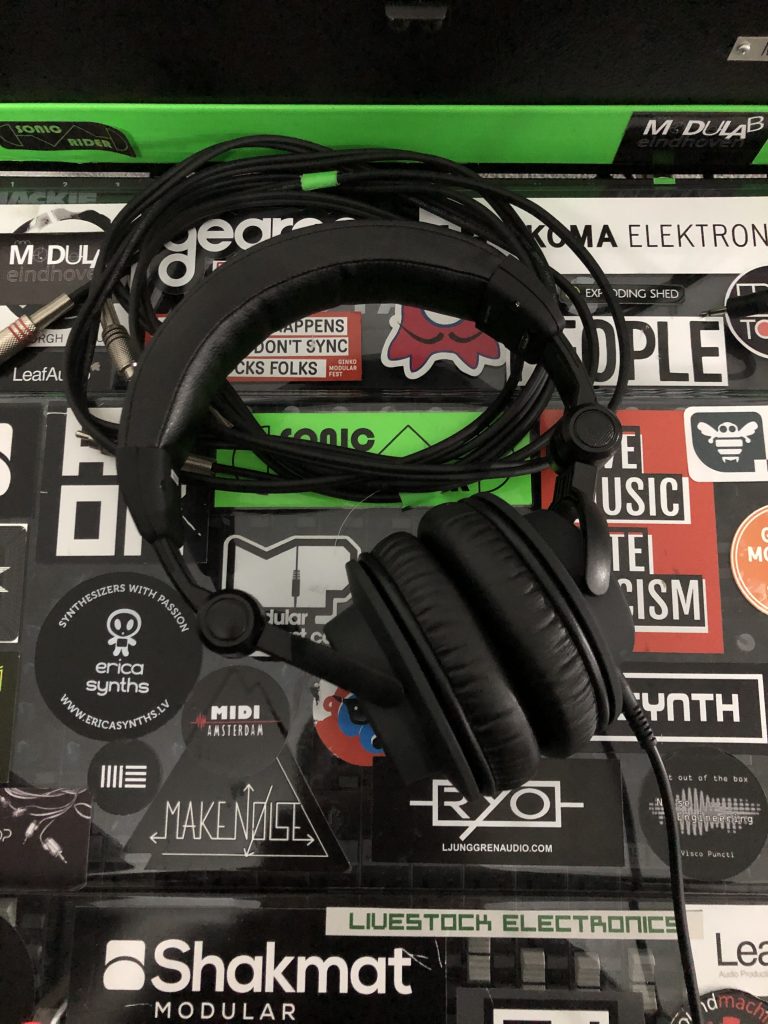 Note: I'm a modular musician and record in stereo – while recording I have 24 mono in (for each sound source a channel) and "mix" live using the modules – filters and VCA's. Years ago I recorded each track but in the end I almost did nothing with the individual tracks: "I knew where I was heading during the recording plus this way of working achieves the most pure reflection of my compositions."

Although I have a different way of working I'm convinced that the SP-5 works the same for multi-track recordings (with multiple musicians).
Mastering
For this review I went for a walk – cleared my ears – and prepared my master set up: mixed track (BTW I use Ableton as recoding – mixing and mastering environment where I created a set up for each phase of the proces). While setting things up I listen to reference tracks at a low volume so my ears can adapt to these mastered tracks.
Maybe you think: Is it possible – produce – mix – master? Yip – did use master services in the past and not always with a better result – keeping in mind that my music isn't out there for the radio (if yes I should use a master engineer for sure) but for music & sounddesign lovers in the "independent territory".
While mastering I try to do as less as possible – controlling the low-end, dynamics and LUFS.
When I'm at the point of "done" I listen the track on several headphones and speakers (in another room to).
For this review/test I'm more than happy with the result.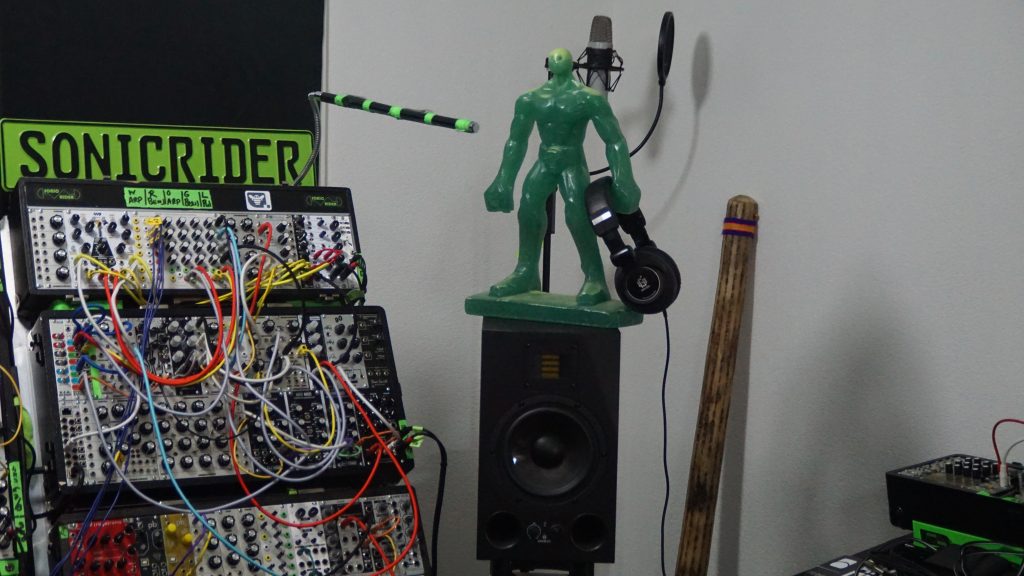 Investing in a headphone is always a difficult thing – most of them have a signature how they sound or they are created for a typically style of music (or listener). I love pure music and like to listen how it was ment to be. The SP-5 is good investment giving me the opportunity to have a pure experience as musician and listener. Since the SP-5 comes in a fine case it will be one of the first things I pack hitting the road.
SP-5 and me "partners in crime in the studio, on the road, everywhere" \0/
Product description & technical data (copied from Adam Audio websites):
The ADAM Audio STUDIO PRO SP-5 is a premium-quality circumaural closed-back headphone designed for professional use with a balanced and dynamic response for monitoring and mixing in the studio or with a mobile setup.
The ADAM SP-5's transducers contain a 40 mm gold plated diaphragm allowing a wide frequency response from 8 Hz to 38 kHz, excellent transient response, and low distortion. Reproducing sound with pristine resolution across the entire bandwidth, the sensitivity of 95 dB @ 1 mW per ear enables the listener to exploit its generous dynamic capabilities when listening.
The ADAM SP-5 utilizes Ultrasone's patented S-LOGIC ® Plus technology, allowing excellent analysis of the sound staging and long hours of fatigue-free listening. Isolating padding and a total weight of just 290 grams give maximum wearing comfort with these professional studio headphones.
With an impedance of 70 Ohms and interchangeable cables (3 m spiral cable with gold-plated 6.3 mm jack and 1.2 m straight cable with gold-plated 3.5 mm jack included), the ADAM SP-5 is suitable both for usage in any studio environment as well as mobile setups. A rugged case protects the headphones from being damaged when not in use and during travel. The ADAM SP-5 is hand-crafted in Germany.
Designed and manufactured in collaboration with Ultrasone, the ADAM SP-5 headphones were engineered with a specific goal in mind — to allow professional musicians, producers and engineers access to a portable form of monitoring with the excellent transient response and tonal balance of ADAM Audio's professional monitor speakers.
Design: Closed back, circumaural dynamic headphone
Foldable: Yes
Detachable Cable: Yes
Transducer Ø: 40 mm (gold plated)
Frequency Response: 8 Hz – 38 kHz
Sensitivity @ 1 mW per ear: 95 dB
Impedance: 70 Ohm
Weight: 0.64 lbs (0.29 kg)
Warranty: 5 years (2 years warranty plus 3 years optional with product registration)
Delivery Contents: 3 m spiral cable with gold-plated 6.3 mm jack, 1.2 m straight cable with gold-plated 3.5 mm jack, design case, manual
Adam Audio product website
Adam Audio Shop
User guide